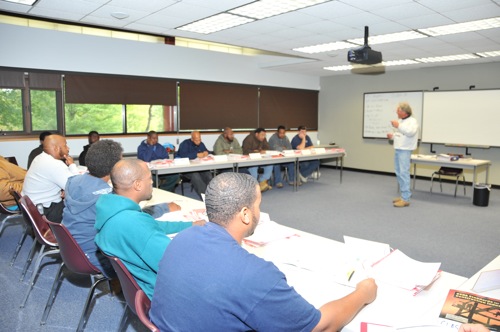 Ongoing training and education increase a member's job skills, safety awareness, and work opportunities.

Certified instructors conduct classes and actively engage members in sessions held in the classroom and within simulated, on-the-job training settings. Both learning environments utilize real-world situations that expand participants' education, aid them in being more effective problem-solvers and enable them to become more valuable workers.
Classes are free to members and those who enroll in a class that extends beyond a single day may also consider reserving a room in the residential facilities. Members can also arrange for pick-up at the Paoli or Exton by calling the school upon arrival at the station. To ensure on-time registration, be sure to arrive at the station by 7:00 am.  
Applications must be obtained at the member's local union and will be processed at the time of registration. Please be sure to review the school's policies and proceduresprior to your arrival for class.
Registration begins at 7 AM.

If using the regional rail lines, plan on arriving at Paoli or Exton Station by 7 AM.

Wear construction work clothes and steel toe boots for "hands-on" activities.

Bring your current membership card or receipt and picture identification.

Make sure your training referral form is filled out completely.

Do not bring personal and/or expensive items to the training school. We are not responsible for any lost, misplaced or stolen items.